NEWS for Week Commencing 28 November 2021
WHAT DOES LOVE LOOK LIKE?
Shoeboxes!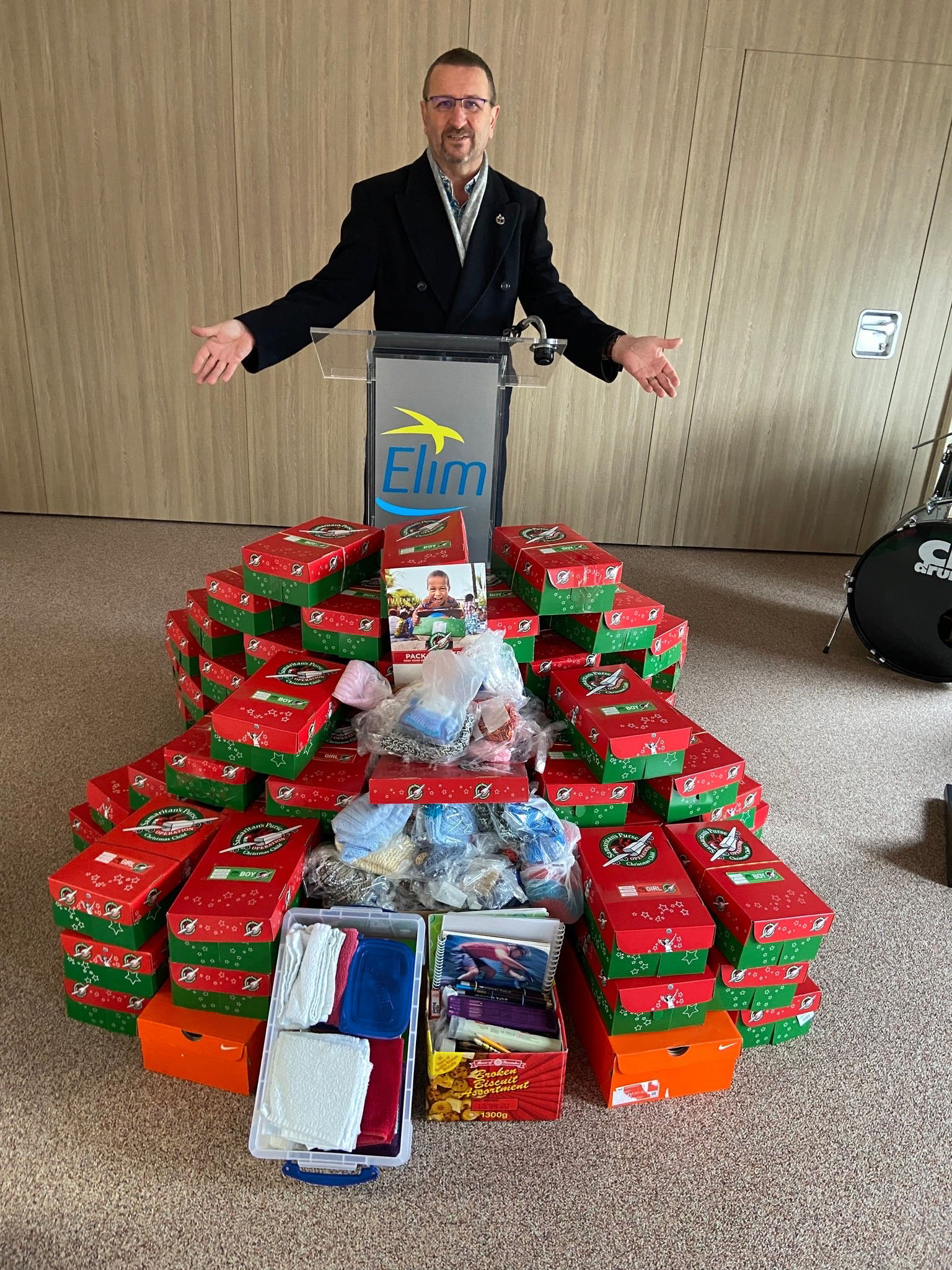 76 shoeboxes packed with toys, (3 of these online), a large bag of knitted hats from Neil's Knitting Group, a couple of boxes of pens, pencils, soap and flannels, and £135 of donations. This has been our best year so far for the Christmas shoebox appeal - a very practical way of showing God's love to children and their families. Thanks to Paul Clark for organising us all so well! If you haven't had a chance to see the boxes at Ashingdon, take a look here.

Chocolate!
Estuary Elim Church donated two thirds of this year's appeal for chocolate selection boxes from HARP (the homeless charity in Southend). As they have now met their target, they are asking for alternative donations of 'smellies', shower gel, soap etc. Once again, please contact Alison Iley if you want further details.


UPDATE TO IN-PERSON MEETING GUIDELINES
NEW: In line with government recommendations, we are strongly encouraging everyone to take a lateral flow test before attending the main Christmas services on 19th December (AM Family Carol Service at Rayleigh, and PM Carols by Candlelight at Ashingdon). These services are usually very well attended and will not therefore be possible to maintain social distancing.
REMINDER: For all in-person services, we encourage the wearing of masks. If you do not wish to wear a mask throughout the service you will be directed to seats as near to the front of the church as possible. Those who wish to wear masks will be seated as far back as possible.<


Here's a summary of our plans are for our Christmas celebrations:
19 December
10:30am - Family EEC Christmas Celebration at Rayleigh (no service at Ashingdon)
7:00pm - Evening EEC Carols by Candlelight at Ashingdon

24 December
YouTube EEC Christmas Communion service (online only)

25 December
All-Age EEC Christmas Morning Celebration! (No online service)

26 December
YouTube & Facebook online service only